1992 was a year of unnecessary suffering and repeated misfortune. Bohemian Rhapsody was number one. Again. Stars by Simply Red was the bestselling album in the UK. Again. The Tories won a general election. Again. England flunked an international football tournament. Again.
And The House of Love released an album of untouchably beautiful guitar music, and the world wouldn't listen.
Again, and again, and thrice again.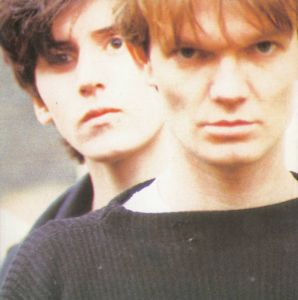 Having twice managed to miss the Top 40 by just one place in 1989 with Never and I Don't Know Why I Love You, in 1991 The House of Love released Girl With The Loneliest Eyes as a teaser for the forthcoming album Babe Rainbow. It was a #58 smash. Then, in 1992 The House of Love exceeded themselves by missing out three more times. Like a pathetic drunk on a bungee run, each time they tried to score a hit they just ended up further away than before. Feel reached #45, You Don't Understand gave up at #46, and finally Crush Me could go no higher than #67.
Sometimes you crush me
Sometimes words will not deny
that you crush me
Yeah, yeah, yeah
Sometimes you crush me
Meanwhile, Melody Maker were making cover stars of Suede before they'd even released their debut single The Drowners, declaring them "The best new band in Britain" in April. It was all wrong. The House of Love knew how it felt to be pitched as the next big thing, signing to Fontana for big bucks (£400,000 was the rumoured figure) after their perfect self-titled debut album for Creation. Fontana, perhaps wanting a quick return on at least some of the outlay, shoved the band straight into the studio. The result was Never, and we already know how well that charted.
At twenty-five and sick of life
The unhappy departure of guitarist Terry Bickers - abandoned mid-tour, dumped from the tour bus dropped at a train station - seemed a mere distraction when a new version of Shine On made the Top 40. It was followed by a well-received second album, and single The Beatles and the Stones, charting lead singer Guy Chadwick's relationship with the bands, and his formative years ("The Beatles and the Stones / made it good to be alone") made it two from two when it reached #36.
Somewhere along the line, though, the yarn began to unravel. Articles about the musical talent turned were replaced by articles about the band's hedonistic lifestyle and talent for self-destruction. Drugs and money were both reputedly being burnt backstage. Soon the band started to slip from the limelight; a sporadically brilliant compilation of previously unreleased material appeared, but by the time Babe Rainbow was released in 1992, madchester had risen, exploded and fallen, and suddenly The House of Love's 60s influences were out. Suede's brash sense of 70s glam was more the people's speed.
My theme is: lose the plot
fuck around and drink a lot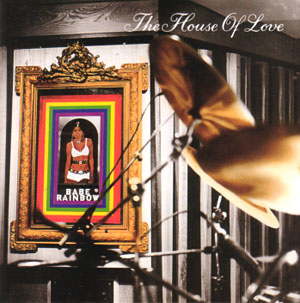 Babe Rainbow was a beautiful creation. It took its name from a piece by Peter Blake (his efforts on a certain Beatles album are slightly better known), which appeared on the album's cover, and tempered its moods of despair and decay with shining guitar sounds and mellow Guy Chadwick vocals. On its release, Babe Rainbow barely dented the Top 40 before shuffling off to become one of pop's great lost albums. Despite the melancholic splendour of The Girl with the Loneliest Eyes, the anthemic Feel, and the collapsing beauty of Yer Eyes, no-one seemed particularly interested. Even Terry Bickers probably paid it no mind, at least until he heard Guy Chadwick say the band didn't miss him because Chadwick had played 90% of the guitar parts anyway. By now, though, Bickers was a member of Levitation, whose album Need For Not was released on May 4th. And, yes, they did the Star Wars pun thing.
A final House of Love studio album, Audience With The Mind was recorded in a lightning-fast 12 days, and was released to decent applause if not exactly fulsome praise. Tracks included a follow-up to Shine On, called Shining On, and Into The Tunnel - an eight-minute epic that Chadwick had spent the best part of a decade working on. It sold about 4 copies. It was to be an anticlimactic end for a band that had once been touted as the new U2.
Shining On
Guy Chadwick went on to form The Madonnas, a band that released precisely no albums or singles, although they did play live at least once, supporting The Cranberries in Manchester. I know this because I was there. Chadwick then embarked on a brief solo career, with the release of Lazy, soft and slow, a down-tempo collection of love-adorned ballads variously described as "sleep-inducingly samey" (Uncut, March 1998), or "Masterfully understated stuff from a much missed and quietly inspirational maverick" (MOJO, March 1998).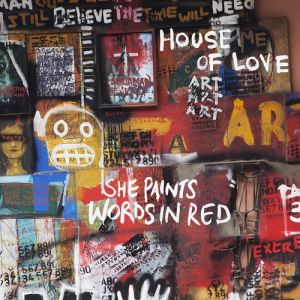 Then, suddenly, gloriously, happily, The House of Love reformed, Chadwick and Bickers burying the hatchet to record and tour together. The comeback didn't disappoint: old songs like Christine, Love in a Car and Hope still sounded magnificent live; new album, Days Run Away, was the sound of a band released from the pressure of expectation, wiser than before, but with the same wicked way with a melody. In 2013, The House of Love released a sixth album, She Paints Words in Red. Listening to it doesn't recapture the excitement of those early albums, but it's magical in its own way: it's just enough to know The House of Love are still around, despite everything.