Having made my choice for 1992's Tracks of my Years playlist, I was hit by a flood of thoughts of what might have been. This was the year that my music collection truly started to begin the burgeon: my purchasing power still lagged behind my curiosity, but as both grew, so did my library. I was flying in all directions, chasing down new sounds, both "new new" and "new old". From the latter category came the likes of Nick Drake, Van Morrison and Big Star. Some of the very best of the newness is contained within this here list of ten great albums released in 1992 (as well as one that wasn't):
Ride - Going Blank Again
Somewhere between the fuzzy haze of Nowhere and the glistening groove of Carnival of Light was Ride's second album, Going Blank Again. Instrument-heavy and lyric-light (the entire lyric of Not Fazed is essentially "I won't be a monkey in anyone's zoo, and I won't get fazed whatever you do. Hit him again he's crazy" with a few ah-ahhhs thrown in, but it stretches out for nearly four and a half minutes) it's prog-shoegazing, but at the same time not actually like either of those things. Which is good if, like me, you're not all that sure about prog.
The main thing to note about Going Blank Again is that it is consistently very, very cool. For most of the 50+ minute running time it's a succession of descending or ascending chord sequences and drum fills, with not much of a nod to old fashioned notions such as the verse or the chorus. There are lyrics here and there, and a couple of radio-friendly moments (Twisterella and Making Judy Smile) but for the most part it's all about the long and floppy-haired groove. On and on it goes, like a never-ending, but very satisfying dream.
https://youtu.be/BV–eYGPQJ8
The Jesus and Mary Chain - Honey's Dead
Simon Reynolds described The Jesus and Mary Chain as record collection rock, meaning not so much music steeped in its own past as music that demanded you were steeped in its past. Or at the very least, schooled in its influences. That way, like the music bore who knows and owns everything, yet feels nothing, you could enjoy the songs all the more.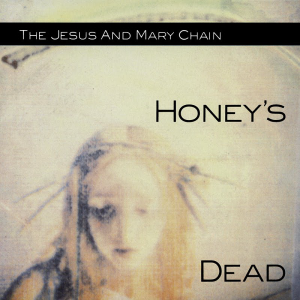 In 1992 I didn't even know that much about The Jesus and Mary Chain's earlier albums, let alone possess a record collection stuffed full of the influences they were so happy to lift from, but even I could feel the attitude dripping from the case of Honey's Dead every time I went to listen to it. Listen closely enough and you can almost hear them respond to that classic line "what are you rebelling against?" with a terse "hey, do you mind? I'm trying to get some perfectly placed feedback going on here. Jeez".
Reynolds also observed that as alternative and anti-pop, they shunned synths and dancefloors "to the extreme with their music's utter lack of rhythmic thrust". That's not entirely true of Honey's Dead - tracks like Far Gone and Out, I Can't Get Enough and Tumbledown do have a certain impetus, even if the sheer effort of it all seems to have left them listlessly swaying in slo-mo for the rest of the album.
Except for Reverence, that is. Banned by BBC Radio 1, and Top of the Pops because of its lyric (all that dying, JFK, Jesus Christ stuff apparently not suitable tea-time content in Auntie's eyes), it trips along on a perky, programmed-sounding beat and more or less constant feedback. The kids on Top of the Pops would have loved it.
https://youtu.be/zNfbcSBib64
R.E.M. - Automatic For The People
What can I say? R.E.M. were the first band I became obsessed by. They were my first, and probably still deepest musical love. Between the release of Out of Time and Automatic for the People I went out and bought everything I could find, including the Chronic Town EP on cassette - purchased along with a Fables tour t-shirt while on a trip to California.
I was worried that it would all fall apart, that Automatic would be a dud, that I'd be left disappointed with my stock.
I needn't have worried. It was more accomplished, more confident, more rounded than Out of Time, which quickly started to look like a tentative warm-up for the main act.
https://youtu.be/1hKSYgOGtos
Moose - XYZ
I had been led to believe that Moose were a shoegazing outfit. That's just what I was told (not only that, but their on-stage antics, or lack of, had possibly inspired the term in the first place). Imagine my surprise, then, when I first listened to …XYZ. As Slip and Slide started I didn't have long to register my confusion: coming and going as it did in 74 seconds, albeit at the rough pace of a man pulling an anvil against his will.
Imagine, too, my embarrassment that this was taking place near the till of Revolution records, the only independent record store I knew at the time. Bloke probably thinks I'm some sort of weirdo, I figured, and is it hot in here, or is it just me. Where did all these other people come from? Why are they pretending to browse the singles rack while secretly laughing at my this album I've innocently asked to have a quick listen to?
But then Little Bird came on, and even though it still wasn't the sound of understated cool I'd hoped for, it was bloody good. Purchase made - shop exited sharply.
Once home, safe, I could savour the country-tinged tracks like their cover of Everybody's Talkin', the rollicking Soon is Never Soon Enough and The Whistling Song, and relax and float downstream with This River is Nearly Dry. If there are hints of shoegazing to be found, then look to the dense layers of Screaming (or seek out their earlier EPs, where the label is much more accurate).
https://youtu.be/l91j7FL6Uts
The Cure - Wish
Albums by The Cure that I definitely own:
Wish
Show
Paris
**Greatest Hits** (the 2CD version with all the acoustic versions)
Yep. Not exactly a connoisseur, am I? I'm the guy next to you at the Cure gig checking my watch wondering if they're going to be finishing up soon, or if my knackered old legs can stand for another hour of back catalogue trawling.
I might also have a copy of Wild Mood Swings, but I'm really not sure. I know that I nearly bought Standing on a Beach a hundred times, but you know that thing was really pricey at a time when I couldn't afford the luxury, so it always ended up back on the shelf. Don't blame me, blame the big stores for their weird pricing strategy.
Wish, though, will always have a special place in my heart, whether it's for Friday I'm In Love, which I am happy to enjoy even though I'm apparently not supposed to because it's their Shiny Happy People, or the unadulterated fun of Doing the Unstuck, or the meandering grooves like Cut and From the Edge of the Deep Green Sea. I like it so much that I don't even mind that it's over an hour long, which is pretty lengthy for a 12-tracker
It's a perfect day for letting go,
for setting fire to bridges, boats and other dreary worlds you know
Let's get happy!
https://youtu.be/-7HtSZ6TamA
Catherine Wheel - Ferment
They seemed to have one solo, which consisted of a squall thrown in at just the right time in every track. But there was feedback, lots of lovely feedback. And that dirtied dream-pop guitar playing rhythm in the background, and a rich bass butting up against Rob Dickinson's breathy vocals. And Black Metallic, one of the greatest loud/quiet/loud songs of all time: seven minutes of noise and catharsis. Then there's the delicious pause in the middle of Indigo is Blue, and the textures of Texture.
Sure, the palette doesn't vary much from start to finish, but when you're on a roll, why stop to look around?
Strangely, perhaps put off by word of a change in sound from Ferment towards something that didn't sound quite like my sort of thing (I don't know exactly, but rock seemed like it might be a part of it), this was the only Catherine Wheel album I ever bought. I have bought several copies of it over the years, though, so that sort of makes up for it I feel.
https://youtu.be/6IcMWFLlPyc
The Boo Radleys - Everything's Alright Forever
Having originally bought this on cassette, for a while I wasn't entirely where some of the tracks at the start of side one ended, and where the next began. There seemed to be too many distinct pieces of music for the tracklisting, but which parts belonged to Towards the Light, and which belonged to Losing it (Song for Abigail)?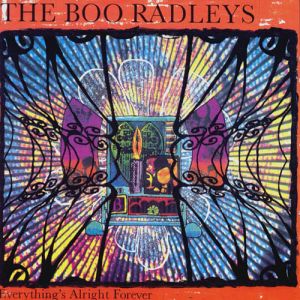 I know that this would bother some people, and once it would have perturbed me, but I was moving on from the days when I cared to know every lyric, every title, and the precise running order (including lengths of songs, memorised to the second) of all my albums.
Everything's Alright Forever doesn't really lend itself to that sort of forensic fanaticism. It starts, waves of sound cascade from the speakers and wash up at your feet, eddying round the socks and other obstacles you choose to keep on the floor, you drift off - life is but a shoegaze dream - and 50 minutes later the tide goes out, leaving you alone with a feeling of something having happened that you're not quite sure of.
https://youtu.be/KatZSNzcdyQ
Sugar - Copper Blue
Bob Mould rocks just about as perfectly as anyone. I'm gonna call that a fact. Husker Du passed me by, but I caught Pixies on the way down and from there it was but a short hop over to Sugar. Copper Blue doesn't misfire once, even when Bob softens the mood with a gentle acoustic love song like If I Can't Change Your Mind. Hoover Dam is a highlight of an album almost entirely made of highlights; it does that amazing trick of switching your attention from one piece of the soundscape to another, so you're concentrating on Bob singing the vocal line, and all of a sudden you're following the bass instead, and then catching a great chord change."
As well as being a fantastic album in its own right, Copper Blue spawned Beaster, released the following year. Its six tracks were recording during the Copper Blue sessions but left over to form their own brutal and uncompromising mini-LP of pain and loss.
Here's Bob with a typical full-on version of Hoover Dam, making heavenly 12-string shapes in a largely empty room.
https://youtu.be/kJhkoItnv9c
The Beautiful South - 0898 Beautiful South
This one's something of an anomaly, I suppose. So what's it doing here? Well, it's an album of exquisite songs, smoothly produced and beautifully composed, with razor-sharp lyrics, a hint of menace, a dash of humour, and intriguing artwork.
The Rocking Chair and Domino Man were a bit on the jaunty side for me at the time, but I can't find any fault in this album now: from the bittersweet Old Red Eyes is Back and the passive/aggressive We Are Each Other, right through to the sinister You Play Glockenspiel, I'll Play Drums and the anthem to joyous old age that is When I'm 84. Put away any reservations you might have had since Carry on up the Charts put them in the record collection of everyone but everyone and know this: The Beautiful South created some really wonderful music.
https://youtu.be/ykftnIhTYVw
The biggest mistake you can make with Trains, Boats and Planes is to go hook-hunting, casting your net here and there in the hope of catching some of the album's highlights. Even though the melodies are simple and direct, and the themes likewise, you need to stand back and let them reveal themselves. Skip through the opening moments of each track and you'll start to think you might have heard this one before (try the opening to Bake Us a Song, then go straight into obvious and deserved hit single After All and you might feel a touch of deja vu), but give yourself a moment to savour Walter's Trip and Trainspotters and you might find them joining Fashion Crisis Hits New York and This is Not a Song on the shelf marked "catchy".
Because they came across as a bit zany, The Frank and Walters were generally dismissed by serious music aficionados, which is a crying shame, because as Fashion Crisis shows, they had a way with words and melody that went way beyond the wacky.
https://youtu.be/Ex5H5YgV7LU
And one album that sounds like it might have been from 1992, but wasn't…
NME Singles of the Week 1992
You can measure my brief time of relying on the inkies for my weekly fix of snappy reviews, interviews and satirical features in end of year compilations. After this, I bought the 1993 album, but never again. I'm not saying that 1994's compilation was bad, just that it seemed divided into two camps: songs I already had, and songs I knew I didn't want. Also, buoyed by some reviews I'd written for the student newspaper, I knew by then I could do better myself, and cast them aside. Arrogant? Oh, I don't know…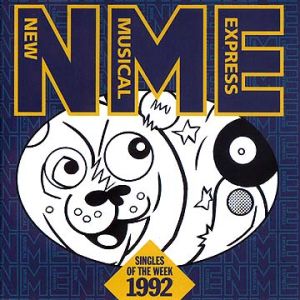 Back in 1992, the NME singles of the week album had a more enticing flavour. Restricted by budget there were gaps in my collection, gaps that it seemed could be partly filled by this album. Not only that, but I was curious about the tracks I didn't know. The Tyrell Corporation and 3 1/2 Minutes turned out to be the album's only real disappointments, while the highlights included (brace yourself) a Kingmaker non-album track. Also: Gallon Drunk, The Family Cat, Teenage Fanclub, The Beautiful South, Sugar, Carter USM, The Wedding Present, Saint Etienne, PJ Harvey, The Orb, The Fall, Rollins Band…""