George Harrison - Got My Mind Set on You
If I was playing for cultural cool points, I'd probably pick a track like Pump Up The Volume for 1987. A landmark for house music and sampling, Pump Up The Volume was born of a collaboration between A.R. Kane and Colourbox. A.R. Kane's Alex Ayuli had previously been an advertising copywriter and is credited with coining the term "dream pop", which in turn became a perfect descriptor for A.R. Kane's music.
all you could be sure of was that they denied having any influences beyond Miles Davis, and they made records that sounded like no-one else. Sensual, spiritual, vaporous, liquid, unearthly, subterranean.Neil Kulkarni
As collaborations go, this was a particularly fractious one, and there's actually very little of the Pump Up The Volume / Anatina 7" that contains moments of the two working together. The name given to the project - M/A/R/R/S - is taken from the first letter of the names of the members of the two groups; it was as close as they ever got.
Pump Up The Volume sampled other tracks prodigiously. At some point after 4AD pressed it as a white label someone in the production team at Stock Aitken & Waterman spotted a sample of their track Roadblock, and decided to sue. In hindsight it seems a somewhat tenuous case to make, because Roadblock itself used a series of samples, but sampling's legal waters were murky and untested, and knowing SAW to be savvy operators, 4AD settled out of court. No-one else complained (Eric. B and Rakim, who were repeatedly sampled in the track, were more than happy with it), and Pump Up The Volume became 4AD's first number one record.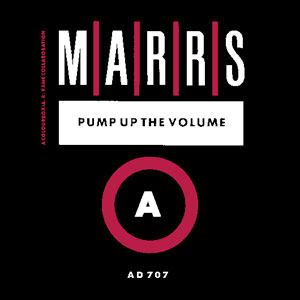 Pump Up The Volume went on to become the year's tenth best-selling UK single. Its status as pioneering trailblazer for a new generation of music is somewhat tested by the fact that it was marginally outsold by The Firm's excruciating Star Trekkin'. Also, it was knocked off the top spot by the distinctly square to be square Bee Gees, and their chain-dragging dirge You Win Again.
Following the Bee Gees at the top of the charts was China in Your Hand by T'Pau, featuring the vocal talents of Oswestry's finest, Carol Decker. Still with me? Good, because today's track is the song that couldn't push past China in Your Hand, although it did manage to reach the top spot in 18 countries worldwide, including the US.
Got My Mind Set on You was the fifteenth best selling single of 1987, although remarkably it wasn't even the best selling single not to reach number 1. That accolade, as I am sure you will have remembered, goes to Bruce Willis, whose version of Under The Boardwalk hit number 2 in July, kept off the top only by the year's chart dominators-in-chief The Pet Shop Boys.
I know all this very precisely because I've looked it up (this mind-numbing fact volcano didn't just spontaneously erupt, you know), but it's not entirely new information to me, for 1987 is the only year that I can vividly remember recording the end of year top 40 rundown in full. The "why" of this has been lost to time; usually I would record individual tracks, but never a full chart rundown. Perhaps 1987 was a vintage pop year, or perhaps I just had a spare C90 or two that needed using up.
Got My Mind Set on Recording You One Day
Got My Mind Set on You was originally recorded by James Ray in 1962, and was written by Rudy Clark. A friend of Bobby Darin's, Clark's best known hit is The Shoop Shoop Song (It's in His Kiss), which became a hit for Cher in 1991 off the back of its appearance in the film Mermaids.
Ray's version is a curious beast. At times it sounds soulful and strident, and there's a richness to "Little Jimmy"'s vocals and fun moments with the brass, but the rhythm is curiously prosaic, leaving his off-beat "to do it, to do it" lines in the chorus unsure whether to catch up with the beat or wait for the next to come along.
http://youtu.be/k68Fob0QA_k
Having heard the song, Harrison bought it up with a view to one day recording it. His eventual take is, by contrast to Ray's smooth, if a little sanded round the edges. How much you'll enjoy listening to it now will be determined in no small part by how you feel about the distinctive spacey boom and echo of Jim Keltner's drum sound. To me it's a part of the '80s best left behind.
In 1988, Got My Mind Set on You was parodied by the never-hilarious Weird Al Yankovic on his album Even Worse. Unremarkably, though possibly ironically, Weird Al's take on the song - (This Song's Just) Six Words Long - becomes tedious even before repetition fatigue sets in. Remarkably, Al scored his first US number one album this year with Mandatory Fun, a title so misleading I don't quite know where to begin with it.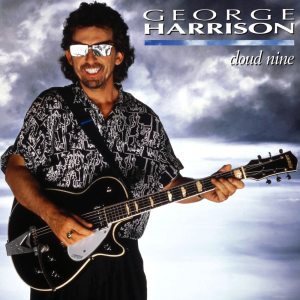 The George Harrison album that featured Got My Mind Set on You was called Cloud Nine, and was released in November 1987. I liked the single, I liked the title of the album, and more importantly I liked the shot of George on the cover, with his guitar, and mirrored shades. Pretty, pretty cool, I think you'll agree. At the time, anyway. Perhaps best to leave the look with those spacey drums.
Listening to the album now, at first I'm struggling to connect the dots and place it on a timeline with anything else I've fallen for, but by the end of the first chorus of That's What It Takes, I can already draw six straight acoustic guitar string lines between this and Tom Petty & The Heartbreakers, who I'd be tentatively trying about four years later. Most of the rest of the album now passes by without raising much spark of interest from me, though. Even Wreck of the Hesperus, which was a favourite, while pleasantly melodic, and still lyrically interesting even if I never did quite understand the line: "I'm not being a power of attorney. But I can rock as good as Gibraltar".