What do the 1945 General Election campaign in Kettering, the 1960 Grand National, the 1963 International Poultry Show at Olympia, and Beat Dis by Bomb the Bass have in common?
No?
Perhaps the first few seconds of this clip will help:
http://youtu.be/DEJaqc28eZQ?t=18s
The voice you can hear belongs to Geoffrey Sumner, an actor and regular narrator and commentator for British Movietone News, who provided plummy commentary for all of the above.
Incidentally, in that 1945 election campaign video, the Conservative candidate turns out to be none other than the later-to-be-disgraced John Profumo. His affair with Christine Keeler in 1961 led to his resignation two years later and is often cited as one of the causes of the Conservative's 1964 General Election defeat. In 1989 the film Scandal told the story of the affair and the aftermath; it would probably been in production at about the time that Bomb The Bass was in the UK charts. In a not particularly related co-incidence, 1963 saw, as well as Profumo's resignation, the release of a record called Russian Roulette, on the Audio Fidelity label, which is also sampled on Beat Dis. The fact is that Beat Dis samples from so many sources across such a wide time-span you don't have to look hard to find connections. But one more… On June 30th 1945, newspaper delivery drivers in New York started a 17-day strike that led to mayor Fiorello La Guardia reading comic strips over the air to keep the city's children from missing out on the latest news of their heroes.
A Movietone news recording of LaGuardia exists. You might recognise his words at about 1:28…
http://youtu.be/xH9tCcrrcak?t=1m28s
Meanwhile, at the same time back in Kettering, Profumo was losing his parliamentary seat in the '45 election, the holding of which was delayed in some seats because of the ongoing wakes weeks, in which the country's workers took a well-earned break in one of the many popular resort. Resorts such as Blackpool, in fact, as captured in the 1939 presentation "Blackpool, a nation's playground", which was narrated by - yep, you guessed it - Geoffrey Sumner.
I digress…
Like Profumo in the 1945 election, Beat Dis failed to win the popular vote, stalling at #2 in the singles chart. Whereas Profumo lost out to Dick Mitchison, an Old-Etonian Labour politician, Beat Dis lost out to a diminutive former Aussie soap star.
The Kylie Minogue song that the public preferred was I Should Be So Lucky, which went on to become the third biggest selling single of 1988, after spending five weeks at number one. It was famously claimed by Stock Aitken & Waterman that they'd forgotten Kylie was coming to see them and wrote the song in under 40 minutes, which is pretty impressive, although listening to it you do wonder what they were doing for about 37 of those. I'm not saying I could have written that song in real time; let's just say it's about as complex as Kylie's vocals are at this stage in her pop career.
Now That's What I Didn't Really Call Music
I Should be so Lucky was one of five Kylie songs in the end of year best-sellers list, although it was the only one to actually reach the top spot. (And calm down, pop pedants - Especially For You, her duet with fellow Neighbours star Jason Donovan, did reach #1, but not until the following year.) It also ended up on the eleventh in the already worryingly long-lived and successful Now! series, the cleverly titled Now That's What I Call Music 11, exactly 50% of which I own.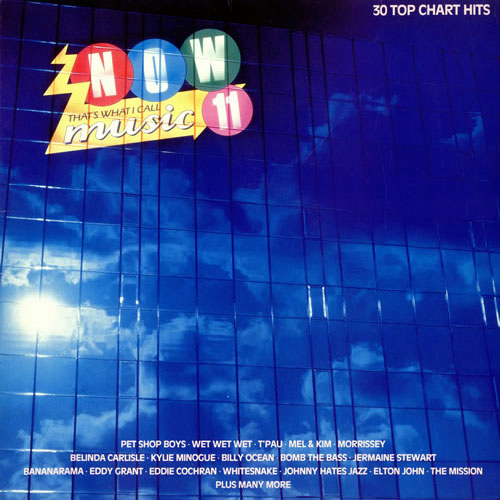 I don't know why I only seem to have one half of Now 11; darkly I suspect that it belongs in someone else's music collection. Happily, the time for them to be mad at an unknown thief has most likely passed. That said, an alternative theory would be that instead of the criminal, I am really the victim here. For the most part, Tape 1 holds no great allure for me; the songs are familiar but not necessarily loved: if I have a memory of listening as Always on my Mind leads into Heaven is a Place on Earth, and then Get Outta My Dreams, Get Into My Car, is this just an imagined event, or a real memory? Is any modern day fondness for Candle in the Wind simply a sympathetic reaction to the lyrical butchering it received in 1997 ("Goodbye England's rose" / "Never fading with the sunset")?
With a single exception, the rest of the first half of Now 11 is eminently forgettable. One track, however, stands out like, well, like a Suedehead at a Stock Aitken and Waterman launch party. It's this track, and this track alone that makes me suspect I once owned the whole album, predating as it does the time I started buying (into) Morrissey and The Smiths, and yet it's one that I remember so well."
The second tape isn't exactly stellar either, mind. Dollar, Jellybean, a Mel & Kim song that isn't one of the ones you remember, a Bananarama song that isn't one of the ones you remember, a Morris Minor and the Majors song that you wish you could forget… These are the filler in the Now sandwich that make you question the success of the series, even as it rumbles on after over 30 years. What songs on Now That's What I Call Music 88 will take the place of these for the 224,000 people who made it the fastest selling album of 2014 on its release in July?
Sample this
If Pump Up The Volume (nearly my pick for 1987) was at the fore-front of this new realm known as sampling, then Beat Dis took it to a whole new level. The song's Wikipedia entry claims an incomplete list of samples used in the song, and lists 25 samples. The real figure is probably two to three times as many as this. It was all the work of 20 year old DJ Tim Simenon, and cost less than £300 to produce. Samples were found and combined over drum and bass rhythms written by Simenon. It's how both the track and its name came about:
It's how the name Bomb The Bass came about, because the samples were either scratched in live or sampled and looped on top of the rhythm section. So the concept was one of bombing the bass line with different ideas, with a collage of sounds. Bombing was a graffiti term for writing, like people would bomb trains or whatever.
Since the success of Beat Dis, Simenon has worked with a variety of artists including Neneh Cherry, Sinead O'Connor, Depeche Mode, Primal Scream and Dot Allison (One Dove)."
The appeal of Beat Dis lies in its combinations. Samples bounce off one another in endless inventive cycles, these samples combine with the drum and bass, which results in a track that while it is completely indebted to earlier pioneers of sampling such as Pump Up The Volume, doesn't just ape that song's feel, adding some pretty meaty beats into the mix to create a track that still feels fresh, and not a milion miles away from the kind of cross-over that would be visited by the odd indie guitar band or two in the coming years…