Dire Straits - Sultans of Swing
I haven't bought very many LPs in my lifetime. I think not ever having owned a record player has something to do with that. When I have bought vinyl, however, I've tended to go big, and go gatefold. I've also gone somewhat eclectic; double-LPs that I own or at some point have owned (I honestly have no idea where any of them are right now) include:
Les Misérables (Original London Cast Recording)
Milestones - 20 Rock Operas
Alchemy: Dire Straits Live
The first of these is explained by the fact that Les Miserables is the only musical I have ever had any real affinity for, and the only musical I've seen performed in the West End. I don't know quite what was happening with Milestones, but I do know it mostly comprises songs and artist that I later disowned as hard and fast as I could. I have little love or time for the likes of I'm not in Love, Bat out of Hell, Layla, Smoke on the Water, Nights in White Satin and Whiter Shade of Pale.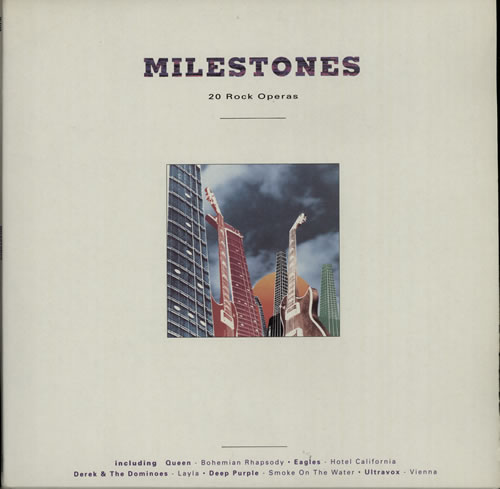 I still have a obscurant soft spot for some of the tracks on this feast of pomposity: ELO's 10538 Overture, with its Dear Prudence / Death of a Disco Dancer progression; Hotel California (inner-hipster-me prefers the Gypsy Kings version, naturally); Wuthering Heights; Vienna.
The purchase of Alchemy makes much more sense (at least as much sense as can be made of a teenager spending all his available funds on a double LP that he will only have occasional opportunity to enjoy, and which he is going to almost immediately copy onto cassette…).
Like a lot of other kids growing up in the early 80s I had limited access to music of my own, other than what was on the Radio 1 playlist. Music, or at least the means to play or listen to it, belonged very much to the world of adults. The kitchen radio could be tuned away from Radio 4, but it was always a good idea to tune it back before anyone noticed, and as for the really serious hi-fi equipment, well that was out of bounds altogether. An incident in which some pretty expensive speakers received a makeover that left them with a novel design mix - part convex as originally envisaged by the designer, now also part concave as prodded by a young boy's curiosity and fingers - may have been partly responsible for the tight security protocol.
The music itself was also largely a no-go area. Vinyl, hidden away, protected in a cabinet, and an outer and inner sleeve, announced its own vulnerability and was clearly best left alone. Cassettes - blocky plastic objects with sometimes peeling stickers in odd cases, housed in rows like dominoes - were better able to look after themselves, so could occasionally be given an airing. Leaving the classical part of the collection well alone (just as well in the long-run - I later learned that most of them were mislabelled anyway; heaven knows how much more confused my knowledge of the area could have been) every so often I would enter into a voyage of discovery, and see where it took me.
Mostly, it turns out, to what might disparagingly be termed Dad Rock. Not an altogether unfair label, actually: some of it was rock, all belonged to my Dad. There was definitely Status Quo. There were albums by The Moody Blues, though not any of the chart stuff you already knew. But above all there was Dire Straits. Not above all by number so much as by influence and interest. Brothers in Arms may have been the usual Dire Straits entry-point, and believe me it was just as unavoidable to me as it was for the rest of the world, but here I found some or all (the mists of time are not clear on this) of Dire Straits, Communiqué, Making Movies and Love Over Gold. I knew also that one of the tracks on one of these albums was my Dad's number one favourite track of all.
This is what led me to Alchemy.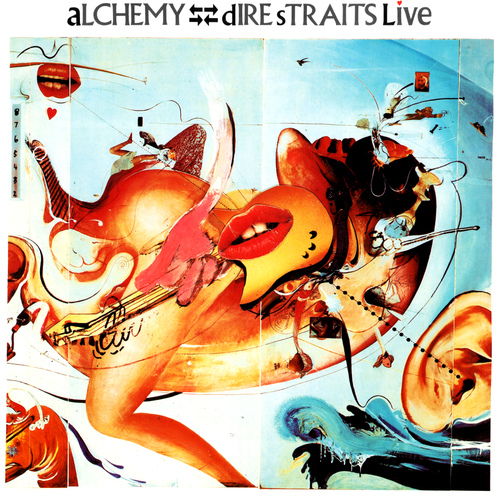 I haven't listened to Alchemy in a long time; I haven't listened to any Dire Straits since tiring fairly quickly of On Every Street. But it's ingrained somewhere deep down in my musical soul, from the 13-minute opener Once Upon a Time in the West, to its closing track, Going Home, from the film Local Hero. And, at the end of side two, there's a version of Sultans of Swing that lasts just shy of 11 minutes - a full five minutes longer than the studio version. And it's definitely this version that lives on in my memory, because when it comes to "guitar George" I'm singing about the "fancy chords" he knows, using a qualification Knopfler added in the live version.
I'm sure you don't need me to tell you about Sultans of Swing, with its lyric inspired by a mediocre pub band Knopfler once saw, and its mesmerising arpeggios from Knopfler's '61 Strat, and the version on Alchemy is everything that dull uninspiring pub band weren't: from start to grandstand finish everything is dialled up from the album version, including a lengthy build to Knopfler's final glorious solo.
In the interests of keeping to the month's chronology I have to use the studio version for today's official Track of my Years, and even for that I'm bending time somewhat: originally released as a single in 1978, it was until the song's re-release in January 1979 that it really took off, peaking at #8 in the UK singles chart. But as a treat, here's the Alchemy version as well. Caution: contains cheesy rock poses
http://youtu.be/8Pa9x9fZBtY