There are certain albums that cannot be revisited or reviewed due to their status in the music world. Certain albums which have been defined as a classic and will be forever noted in history as such. I would not even begin to consider that I could review such an album, but what I can try to do is write about what one of these albums represents and means to me. The album in question was released in 1977 and I think that most households probably owned a copy of it.
To me, it represents a memory of growing up and finding out what music was about.
Growing up in a house that was interested in music meant that there was always lots of it around in various forms. We had a wonderful Sony hi-fi system (which I miss very much now as it was fabulous) that had a tape deck, equalisers and a turntable. It sat within a wooden unit which had a large space at the bottom that was filled with vinyl. It was a real mish-mash of artists from Deep Purple and Pink Floyd to The Beatles and Cliff Richard. It was very diverse as my mum was a mod and my dad was a rocker. I used to love playing my parents records from a young age and the reason the album I'm writing about means something to me is because it was the vinyl I always pinched on a regular basis to listen to a certain track in particular.
If I said to you Formula One coverage on the BBC what would spring to mind? Hopefully you're thinking of the music that accompanies it. The instrumental part of a song that has that wonderful bassline before the guitar kicks in and takes the song up a notch until the final dramatic ending. Yes, I'm talking about The Chain by Fleetwood Mac which therefore means the album in question is Rumours.
I'm not even going to attempt to discuss this album in any great depth as I'm sure those of you who either own this record or have heard it (and I would think that's probably most people) will have formed an opinion about it already which my thoughts certainly aren't going to change. What I can do, however, is tell you what this album means to me and why it's important in the grand scheme of things.
https://youtu.be/O6P2_i0Y6ms
The Chain is my favourite track off of Rumours and I always liked hearing it boom out of the speakers when I was a kid. I am a child of the late '70s and was brought up by music loving parents who managed to imprint some of their taste onto me. I don't consider myself to have a genre and will listen to pretty much anything that is thrown at me to form an opinion on whether I like it or not. Being open to anything probably comes from hearing a variety of music growing up from swinging '60s tunes to heavy '70s rock via a bit of '80s thrown in for good measure. Fleetwood Mac happened to be a band that were liked by both of my parents so I suppose it's only natural that both my brother and I would end up liking them too.
Hearing Rumours at an early age has set me up for bigger and better things and it has definitely added to my appreciation of what good music is.
I think it was possibly the law in the late '70s to own a copy of Rumours and everyone at the time seemed to have it. It's an album that represents a certain period in time for the band and comes with a lot of baggage attached to it. Ask anyone what they know about this album and they will probably mention the drugs, the affairs and the fighting within the band before they get to the actual track listing. As a piece of work, it's probably their finest in my opinion. Interestingly, Stevie Nicks has said since that the chaos that was going on at the time helped them to produce their best work, which I think is pretty evident.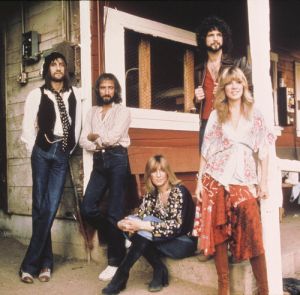 When Fleetwood Mac started out in the '60s they were a blues band. The dynamic changed when Lindsey Buckingham and Stevie Nicks joined at the end of 1974 and gave the band a breakthrough album the following year. The sound of the band had moved into more of a breezy American pop sound, mainly thanks to the new duo in the band. This new line up would prove to be their most successful, but with the success came a variety of personal problems as at that time the McVie's marriage had broken up, Buckingham and Nicks ended their relationship and Mick Fleetwood was also in the middle of divorcing his wife. All this drama was mounting as the band were under pressure to release a follow up to their number 1 eponymous album Fleetwood Mac. Add in to this the fact that the money and success had led to an over-reliance on alcohol and drugs and you have a very explosive situation going on.
The issues that were taking place in the background shaped the way the album was made and ended up sounding. All of the tracks on Rumours relate to personal, usually troubled relationships such as Go Your Own Way which was written by Buckingham about his failing romance with Nicks. The whole album was produced to have no filler with every track having the potential to be a single. I think when you listen to it all the way through, they achieved this without question. The album features wonderful harmonies between the three vocalists and a combination of acoustic and electric instruments.
https://youtu.be/0GN2kpBoFs4
One of the things I love about this album is the timeless quality of it. I can listen to it now and it doesn't appear that dated to me in any way. I guess that's the quality of the production. That the songs still work nearly 40 years later. I have heard the track Don't Stop being used as part of a management conference, The Chain as described above was used for the Formula One and Dreams was originally covered by The Corrs as part of a Fleetwood Mac tribute album, but their version ended up giving them a successful hit single. Both artists and consumers just seem to love this album.
The legacy of Rumours is apparent as this album regularly features in polls such as top albums or essentials albums that you must own. In fact, by 2009 it had sold 40 million copies worldwide. Mick Fleetwood himself described it as "the most important album we ever made" as the success has allowed them to continue as a band for the continuing years afterwards. I think that as time has marched on, the status of this album has changed from one that just happened to sell a vast amount of copies to an album that has been defined as classic due to what it contains.
I know that some people out there don't rate the band much and would struggle to listen to anything that they have recorded perhaps due to the persona of the group. I probably can't change your minds on that, but what I can say is that Rumours is a wonderful album, full of beautifully written and performed songs which will stay with you after you have listened to it. It's an album I put on quite often and once it's played all the way through, I will go back and put my favourite tracks on again. To me, it represents a memory of growing up and finding out what music was about.  Hearing it at an early age has set me up for bigger and better things and it has definitely added to my appreciation of what good music is.
If you ignore the whole background drama that comes with the album and just take it on face value as a well-produced piece of work, I think you will find that you will enjoy the craftsmanship that has gone into it. There is no doubt that it is a classic album and I don't think anyone can disagree with that fact. If you don't own a copy of it, I would suggest you go out and purchase it. If you are one of the 40 million plus that have it to hand, go and stick it on now, sit back and work your way through the beauty that is Rumours.