The Bluetones Anniversary Jukebox
As you probably know from previous articles I've written, The Bluetones are celebrating their 20 year anniversary this year by touring the UK in September.  As a small tribute to one of my all-time favourite bands (and the one I no doubt ramble on about the most), I decided to run a poll on Twitter and Facebook to find the fans favourite tracks so I could make an ultimate playlist.
As part of this piece, I also asked people to tell me why they had chosen the particular track in question so I could share their reasons and also gain a bit of insight into what makes other 'Tones fans happy.  Interestingly, at the same time as I was running this poll, the band themselves were asking fans to tell them what songs they wanted to see on the setlists for the gigs later in the year using the hashtag #tonesat20.  Ever the optimist, I decided to do a bit of snooping and see if the songs choices for the setlists were similar to those being picked as favourite songs.  I mean, surely they would be, right?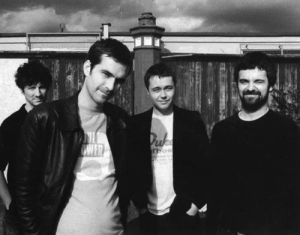 Well, I couldn't have been more wrong.  It became apparent as I was making a spreadsheet of the song choices (yes, a spreadsheet!), that The Bluetones are clearly a band who don't have a bad track in their back catalogue.  The choices for the setlists mention pretty much EVERY single song they have recorded.  So much for making my life easier…
But before we get to that, back to the stories of the song choices.  Here are a few of the comments that people gave me about why they had chosen their favourite song.
Ash Brown (@Our_Man_Flint) chose the track Keep The Home Fires Burning. And his reason was this: "Just because it's a great tune that also plunges into the heart".
Skills McGill (@skillsmcgill) gave me the wonderfully lengthy and totally valid reason as to why Keep The Home Fires Burning was his selection.  This is what he said:
My vote is not necessarily my fave song (it could be many), but when this one came out I was working on a project with young people 16-21 leaving care and moving into their own flats.  They'd come from every kind of broken down family unit you can imagine.  It was a real eye opener for me.  Home Fires struck a chord then and it still does now.  It reminds me of those young people and what they'd lived through and the satisfaction of being able to help
https://youtu.be/mNRgUARwQe8
Ed Pickett said it was Slight Return for him. And here's why: 
My mate had a limited edition 7 inch and said "check this band out". I think the b-side was The Fountainhead. Loved it and got on board. They released the track later and I finally bought it on CD single.
https://youtu.be/zOL3HuP13ng
Mark Whitworth (@bringitonskippy) picked Colorado Beetle because he just loves it - there is no specific reason!
All I can say is The Bluetones make me cry quite often, but thankfully it's for all the right reasons
I wanted to include a reason for myself too, but when I sat down to think about it, I actually struggled to choose a favourite song.  Just like everyone else did it would seem.  I have a few that I love dearly, including Putting Out Fires which I have always considered to be my number one track.  Recently though, I've changed my mind and decided that actually, it's Sky Will Fall from the Return To The Last Chance Saloon album.
https://youtu.be/v01lLARbr5Q
Every time I listen to this song it leaves me a bit choked up because it's just so beautifully written and performed. I was recently reading an old interview that Mark gave where he said that he stays away from writing traditional romantic tracks as he doesn't think he has much skill at writing straight down the line love songs.  Not too sure about that to be honest as I think his writing is extremely provoking, but this might well be the reason why this song resonates so much with me. The lyrics are not so much of the usual lovey dovey style, but they actually hit a chord with me more than perhaps the run of the mill mushy stuff. Maybe it's the reality of them or the fact that I can relate to them on a personal level much more than other songs, I really don't know.  All I can say is The Bluetones make me cry quite often, but thankfully it's for all the right reasons.
So, what's in our playlist then? Below you will find the twenty five songs* that were picked the most by the fans for either our poll or for the gig setlists. I have to say, the results were not as I would have predicted, but that's the beauty of these things. You never know what is going to appeal to some folks more than others. Have a listen and see what you think. Many thanks to those of you who voted and to Ash, Mark, Skills and Ed for their comments. I do hope you can make it to one of the gigs in September and hopefully hear your choices played live. I'm looking forward to it already.
Two tracks are not available on Spotify, so only twenty three tracks in that playlist, but all twenty five are in the video playlist.
Tour dates
16 September – Leeds O2 Academy
17 September – Glasgow O2 ABC
18 September – Newcastle O2 Academy
19 September – Manchester Ritz
23 September – Portsmouth Pyramids
24 September – London The Forum
26 September – Birmingham O2 Academy
27 September – Bristol O2 Academy