This Is How It Feels To Be Indie - The Indie Vigil 2
The very first This is how it feels to be indie radio show last week went down very well indeed. Despite a few minor nerves (so he says, although I didn't hear any), Adam did a fabulous job and treated us to some great tunes including The Trashcan Sinatras, Tom Hingley and a Mark Morriss dedication to yours truly!  In fact, as I'm writing this the show is currently number 10 in the Indie Pop Chart - not bad going for an inaugural show. What's more, you can listen to it on Mixcloud:
So, continuing with the feature of Something Old, Something New, and Something Borrowed aka The Indie Vigil we have our second member of the indie community with their track choices.
Week two features Dawn Bovingdon also known as @Miss_D_xx on Twitter with her three picks.  Dawn is the go-to-girl for amazing spreadsheets (as showcased in the Indie Over 40 World Cup) or perhaps to help put together a crossword puzzle for the EIO40 quiz.  Remember #26across David Bruce??!  How could we forget…
I asked Dawn to share a little bit about herself and also explain why she has chosen her three tracks.  Dawn also kindly provided us with some wonderful photos which you can see here.  This is what she told me about herself:
I'm 21 and a big bit, grew up in Surrey and now live on the south coast of Hampshire with my very patient partner Adrian, cat Riri and alternate weekends with Adrian's 3 teenage daughters. My love of A-Ha and Then Jerico (it's a cheekbone thing) diminished as I left school for college in Windsor. We had a fantastic venue called The Old Trout where a lot of indie bands did their Reading Festival warm ups and I used to spend most of my lunch money in Revolution Records buying vinyl and gig tickets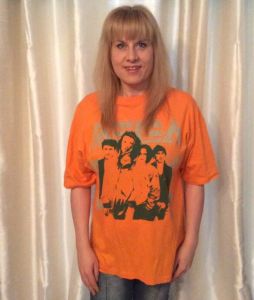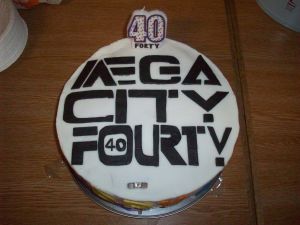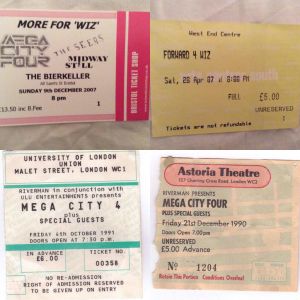 And as for the three tracks in question, here are her choices:
Something Old
My first indie band was Mega City Four and, having previously only attended big, heavily staged concerts where the band's stayed well away from their fans, was stunned when my friend pointed out MC4 walking into the venue using the same entrance as us. The atmosphere was amazing, the gig was energetic and the band were incredible. I was hooked for life. Being a bit of an awkward kid myself this had to be my choice for something old.  This is Awkward Kid by Mega City Four.
https://youtu.be/JTcSO8LgcoI
Something Borrowed
My something borrowed was one of the reasons I love being part of the Everything Indie Over 40 community.  A track by this band was shared by @JohnyNocash and after hearing it I had to buy the album. This is Black and White by The Upper Room, taken from their only album, Other People's Problems.
https://youtu.be/ZMjsbmCsFc8
Something New
I still love live music and was fortunate enough to see these guys a couple of times last year. They're signed to Alcopop! are currently touring, and a version of this track can be heard on their debut album, Romantic Errors of our Youth, released earlier this year.  It's an album I've had on heavy rotation in the car for months.  This is Two Minutes by The Brawlers.
https://youtu.be/n2DlK_ddWS4
I do hope you enjoyed those choices as much as I did and big thanks to Dawn for sharing why those tracks mean something to her.  If you want to get involved, I'm sure Adam would love to hear your tracks and the reasons why you've picked them.  Email him at Adam.wednesdaynight@hotmail.com and include a bit about yourself aswell so we can feature your story on these very pages.
Who will be featured next week?  Listen in to the show and then come and join us for a de-brief next time.
And finally, don't forget to tune in to http://www.radioscarborough.co.uk/ on a Wednesday night to hear some great music and chat.