Back in April 2014 the BBC ran a series of shows and promotions under the banner title "20 years of Britpop". The logic behind the choice of time and place for the start of that 20 year period is fuzzy and vague, but they mention the death of Kurt Cobain (5 April 1994) and the release of Parklife (25 April 1994) as touchpoints.
There's also a claim that Stuart Maconie coined the term Britpop, a claim that will come as news to John Robb, who runs www.louderthanwar.co.uk and who has said that he first used the term in the late '80s while discussing the "madchester" scene. John Harris doesn't offer anything as vulgar as an exact date in his book The Last Party: Britpop, Blair and the demise of English rock, but he does tie the term's mainstream acceptance with the rise, in 1994-5, of Blur, a band who had come a long way in a short time: from windy Primrose Hill to Westminster, to be precise.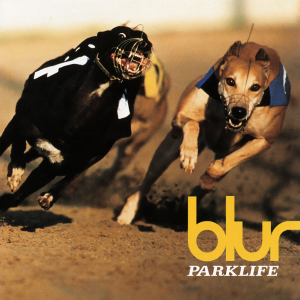 Like my Mum always used to say, though, it doesn't matter who started it. And I'm sure you'll agree that it's touching to commemorate the anniversary of the death of a musician by scheduling two weeks of programming in celebration of the scene that his music was often placed in direct opposition to. What we do know is that between the death of Cobain and the birth of Parklife, a new band from Manchester burst onto the scene. Their rivalry with Blur (fabricated or no) would do as much as anything to shape the public perception of Britpop.
Supersonic, the debut single by Oasis, was released on 11 April 1994. It went into the charts at #31, three places below Standing Outside the Fire by Garth Brooks and four behind Why Me? by pop titans PJ & Duncan, both of which were also new entries that week. It was also a week that saw the artist then known as the artist formerly known as Prince at number one (I think. He's listed as "Symbol" on the Official Charts web site at this point): other than Terrorvision at 24 with Oblivion, there was a general dearth of British guitar bands in the chart.
The singles chart wasn't entirely forbidden ground in 1994: Suede had reached #3 in February with Stay Together, while Elastica bruised the Top 20 with Line Up in the same month, and Inspiral Carpets had also reached the Top 20 with both Saturn 5 and I Want You. Inspiral Carpets had been in the charts since Move reached #49 in 1989, though, and these were their 12th and 13th hits respectively. I Want You also featured a typically shouty vocal from Mark E Smith of Manchester legends and Peel favourites The Fall. As powerful as this combination was, it hardly felt like the future.""
You need to be yourself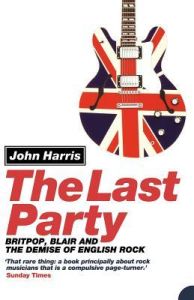 One man who might have taken an interest in the fortunes of Inspiral Carpets was their former roadie, Noel Gallagher. In 1988 he had auditioned, unsuccessfully, to replace Steve Holt as the band's lead singer. Tom Hingley, whose band Too Much Texas had supported Inspiral Carpets a few times, got that gig, but the band saw something in Gallagher's cocksure attitude and soon enough he was on tour with them. Hingley, who hadn't known about Gallagher's audition at the time, later described Gallagher as "a very smart, funny, street urchin: a bit like the Artful Dodger". He lugged and delegated until 1992 when Inspiral Carpets could no longer afford to keep him on, by which time he had joined and pretty much taken charge of a band that already featured his brother Liam on vocals, along with Paul "Bonehead" Arthurs, Paul McGuigan, and a "just-about-competent drummer named Tony McCarroll". Instilling a keen work ethic in his band-mates and creating relatively straightforward songs for them to play, he set about turning Oasis into the biggest band in the country.
You can't be no-one else
Part of that plan was finding the right record label. At the end of May 1993, Creation records boss Alan McGee was in Glasgow to see the live debut of the Big Star inspired Sister Lovers, whose members included his good friend Debbie Turner. Oasis weren't on the bill that night, but shared rehearsal space at the Boardwalk in Manchester with Sister Lovers and came along to blag a support slot. The way the story is generally told from that point is that a pissed up McGee heard one song and knew there and then that he was going to sign this band of cocky Mancs.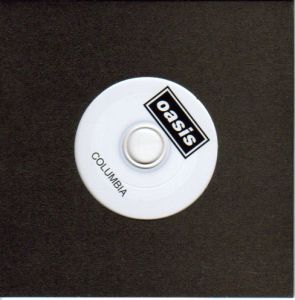 Oasis' first release was Columbia; it was well received and even made its way onto Radio 1 despite being a limited edition promo only 12". Their first single proper, Supersonic, was released in April 1994. It entered the charts at number 31, and dropped out again after just one week.
At this early stage, in the eyes of my friends Oasis was just one of those weird bands I was into, where weird means new, not very popular, not obviously destined for greatness. One day, though, in the not-too-distant future, they would be queueing with me in Manchester city center, part of an early morning snake of freezing bodies, gloved hands wrapped round cheap coffee in cheaper polystyrene cups, constantly batting back rumours that the gig was sold out, until those rumours became fact and there was no choice but to trudge home. Seeing Oasis live would have to wait.
But back to April '94. Maybe it was tied up with being in Manchester during the ripples of the Madchester aftershock, the ruination of Factory and the corporatisation of the clubbing scene. Maybe it was all those endless 80s student nights (Club Tropicana at the Manchester Academy, anyone?) and cheesy Manchester clubs that the characters from Coronation Street would visit on a big night out in town (Royales, anyone?). Maybe it was a lack of competition in the "exciting British bands" category at the time. Whatever it was, Supersonic was a bolt from the blue.
No-one's gonna tell you what I'm on about
It starts with a confident piece of no-nonsense drumming ("Meat and potatoes" as I swear I heard Tony Parsons once describe it, although I can't find a reference to back that up) from McCarroll, met by one of Noel's simple but incredibly evocative guitar melodies, and a slice of rhythm guitar from Bonehead that's as dense as your granny's fruitcake. And then Liam of the ridiculous vowel sounds chips in with the kind of lyric that I am sure is exactly the sort of thing my friends meant when they said "weird bands".
Let's be clear: this is drivel.
You need to be yourself
You can't be no one else
I know a girl called Elsa
She's into Alka Seltzer
She sniffs it through a cane on a supersonic train
She made me laugh
I got her autograph
She done it with a doctor on a helicopter
She's sniffin in her tissue
Sellin' the Big Issue
But what a chorus, what a racket, what a feeling (hell - more than a feeling!). And what's more, it fades out on one of those double-tracked loopy, bendy guitar solos that I'm a complete sucker for. It's Teenage Fanclub's I Don't Know (Burnage boys are mad for it remix).
I'm feeling supersonic, give me gin and tonic
Did you know that Oasis have had eight number one singles in the UK? That's as many as The Rolling Stones, and only one below ABBA and The Spice Girls. Remarkable, really, especially when you consider the list includes songs like The Hindu Times and Lyla. You probably don't remember those two songs all that well, because you probably stopped listening to Oasis after the musical cocaine party that was Be Here Now. Many people did the same. And yet many (enough) people went out and bought each new single as though it was actually an exciting event. Mostly, they did this during the song's first week of release, because not one of Oasis' eight number ones have lasted more than a week at the top. This feat of short-evity puts them in interesting company: of the artists with four or more number one UK singles only Eminem, David Guetta and One Direction have also failed to spend a second week at number one.
Perhaps more remarkable is that while some of their late career singles reached the top, the song that perhaps defines them more than any other only reached #2. And no, I don't mean Roll With It, the joke-inspiring single that battled with Blur during Britpop's commercial peak and creative nadir. Not that, but Wonderwall. Iconic, instantly recognisable, and tragically easy to play on an acoustic guitar, as anyone who's ever spent a night in a music festival campsite can attest. As good as it is, though, some might say (ahem) that Oasis' version of the song is not the best. Personally, I would put this above it:
http://youtu.be/0gVxRvNfFLg
And also this, depending on the jollity of my mood:
http://youtu.be/Vy1ueZf1WMQ
Brilliantly, the Mike Flowers Pops version of Wonderwall was released at the end of 1995, while the Oasis original was still in the chart, and very nearly stole the Christmas number one position from Michael Jackson's Earth Song. I say "Oasis original", but after it was cheekily declared on Radio 1 that the Mike Flowers Pops cover was in fact an original song from the 50s, Noel Gallagher received a transatlantic phone call from a nervous record label suit to verify that he had in fact written the song. "You bunch of dicks", said Noel, later.
But he can smile about it now, perhaps helped by the fact that Wonderwall reversed its descent out of the top ten and spent a few extra weeks in the chart on the back of the success of the lounge cover. This bonus chart time might also have helped soften the blow of being beaten to the top spot in the first place by singing soldiers Robson and Jerome and their double a-side I Believe / Up on the Roof.
But before tomorrow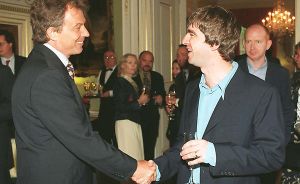 When did it become the norm to dismiss Oasis, eh?. They did get progressively rubbisher as time went on, it's true, but it's sometimes hard to square the modern-day revisionism with the astonishing sales figures of (What's The Story) Morning Glory? and Be Here Now and the scale of live events like their immense two days at Knebworth. In a way they became victims not of their own success, but the failures of others, doomed to be forever remembered for Noel's visit to Downing Street, getting chummy with Blair and the now faintly embarrassing notion of Cool Britannia, or their part in Britpop's downfall with the ludicrous chart face-off against Blur. There's also backlash to feel in the form of music journalists of the day hastily recanting their 5-star-fulsomeness for Be Here Now. On its release said to have been a masterpiece; subsequently: an overblown wreck. Journalists, perhaps, were themselves too happy to indulge in some of what we might call "Gallagher's ruin".
I don't listen to Oasis very often any more, but when Definitely Maybe was re-issued earlier this year I enjoyed some quality nostalgia-time with it, hearing Slide Away and Cloudburst (originally a Live Forever b-side) for the first time in a long time. It's been a long time since I was excited by anything new from Oasis, but I can't deny that for a while back there in the 90s I was just a little bit mad for it.