This Is How It Feels To Be Indie - The Indie Vigil 1
This is how it feels to be Indie - Radio Scarborough 12/08/215 by Adam Jeffery on Mixcloud
The indie music community over on Twitter has lots of lovely folk in it.  I enjoy being a member and have made lots of great new friends.  One of my favourite tweeters is now hosting his own show on Scarborough Radio each week which is an exciting prospect for all of us as it's a dedicated indie show which can be heard on a Wednesday night between 6pm and 8pm.
As part of the show, our resident DJ is getting members of the community involved in a segment called Something Old, Something New, Something Borrowed, Just For You where you can submit 3 indie songs based on the above criteria and get them heard on the radio.  Not bad huh?
Well, in addition to the weekly radio show, both RRP and Everything Indie Over 40 have teamed up online to host a kind of iPlayer for the indie loving folks out there.  After each show we'll publish the choices online with the videos or audio so you can catch up in case you couldn't tune in to the show.  Consider it a virtual ICYMI just for you.
Each week we'll also include a little bit about the person making the choices so you can learn some more about the community and why their choices mean something to them.
First up is our host himself.  Step forward Mr Adam Jeffery or @howcaniapply to his Twitter followers.  Here's some background info about Adam:
I'm mid-40s, enjoy music of course, riding a ridiculously fast motorbike (I've set up a group called hairy arse bikers with a few mates who also have motorbikes) and live in Scarborough. I grew up in Lincoln and spent late 80s to mid-90s regularly heading to Nottingham and to Selectadisc.

The first gig I remember was the Railway Children at Rock City.  I aim to see the Charlatans at least once a year have probably done that as well.  I've had a lady puke all over my new trainers at a Bluetones gig, missed out on seeing Nirvana in 1991, lost and ripped clothes at plenty of concerts, but have survived all this and more so far….

I recently did a one off indie evening on my mates radio show and it went so well that I'm now doing a regular Wednesday night slot from 12th August 6pm to 8pm.
So, without further ado, here are the songs Adam picked on the very first show and the reasons why he chose them.
Something Old
The Charlatans - Indian Rope
The picture below is the ticket from when I first saw them in 1990, can't remember 25+ years on if they did _Indian Rope that night, but I'm pretty sure they would have done.  Great band, great tune and my favourite band I think ever._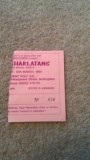 https://youtu.be/9_bDrU0kpSI
Something Borrowed
Bit cheeky this as not borrowed it, it's more of a recommendation!!  My mate said to me late 1995 or early 1996 "we're off to the Sheffield Leadmill tonight to see a new band that you will love". Reluctantly I said "OK". The band now need no introduction so I'm picking _Slight Return by The Bluetones.  Also this was the concert where a lovely lady puked on my new trainers!_
https://youtu.be/B-3UpL6MkZ0
Something New
I became the 1000 follower recently of a band called The Standard Lamps so I cheekily asked them did I get a prize. They kindly sent me a copy of their album called Sell Everything You Own. It's good and I've chosen the last track called _Curtain Call. Also, as a bonus they are supporting The Bluetones on tour in September._
We hope you enjoyed those choices and gained a bit of insight into what makes Adam tick!  If you want to get involved, I'm sure Adam would love to hear your tracks and the reasons why you've picked them.  Email him at Adam.wednesdaynight@hotmail.com and include a bit about yourself aswell so we can feature your story on these very pages.  Finally, don't forget to tune in to http://www.radioscarborough.co.uk/ on a Wednesday night to hear some great music and come back and visit both RRP and Everything Indie Over 40 to catch up after the show.
I've got my cup of tea and playing a few indie tunes @radioscarboro pic.twitter.com/2F44ZBrT70

— Adam Jeffery (@howcaniapply) August 12, 2015