This Is How It Feels To Be Indie - The Indie Vigil 6
This is how it feels to be Indie - Radio Scarborough - SHOW 6 by Adam Jeffery on Mixcloud
Welcome to your weekly catch up on the This Is How It Feels To Be Indie radio show hosted by Adam Jeffery on Radio Scarborough.  There was no show last week as Adam was off gallivanting at the opening night of The Bluetones 20th anniversary tour in Leeds.  I think we can forgive him for this though, especially as he met up with the person doing this week's Vigil.  He said the gig was amazing so if you're going to see them as they play their final dates on the tour, you're definitely in for a treat.
So, cast your mind back two weeks if you will to the last show which featured great tunes from the likes of The Seahorses, Belly, Lloyd Cole and the Commotions and Garbage.  You can refresh your memory by checking out the full track listing on the Indie Radio Facebook page to get the whole list.  Also please give the page a like too!"
The weekly feature of The Best off a Best Of (hosted in conjunction with Everything Indie Over 40) this time was the Saint Etienne album Too Young To Die – Singles 1990-1995.  The winning song was You're In A Bad Way and of all those folks who voted for it on Twitter the winner of a glamorous EIO40 t-shirt was Steve @stevehmagic.  Well done Steve!
If you missed the last show, fear not, you can listen to it again on Mixcloud here.
On the last show there was also a little bit of a build up to the person doing this week's Vigil and Adam played a certain TV theme tune to introduce him.  Luckily he's a very good sport and despite this bit of fun, he still agreed to send in his choices to us!  The theme tune was Blockbusters so the person in question must be the one, the only, Mr Mark Whitworth.
But before we get into his track choices, Mark, can you introduce yourself to the audience please?
I'm originally from Runcorn in Cheshire, but now live in sunny South Yorkshire with my wife Anita. I'm a former-season-ticket-holding-but-now-armchair Evertonian, I play bass guitar (and occasional vocals) in a local covers band called Dr Hackenbush, and I once appeared on the TV show Blockbusters, but made the mistake of mentioning this recently on Twitter and have been harangued to within an inch of my life about it ever since. Hope you enjoy my choices!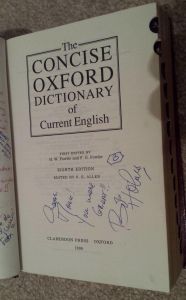 Thanks Mark.  So now let's head over to the studio and hear your track choices:
Something Old
Inspiral Carpets - St Kilda
My all-time favourite band.  My introduction to the world of indie music was on a 6th form trip to Germany in 1991, where the only music anyone brought with them was a tape of the Inspirals' debut album Life. I was instantly smitten. People are generally familiar with their famous hits such as This Is How It Feels & Saturn 5, but this is a B-side from their 1991 single Please Be Cruel. There are so many gems among their B-sides, but this is my favourite.
https://youtu.be/_6LXxT48F3Y
Something Borrowed
The Bluetones - Blue Shadows"
Well, after seeing The Bluetones on the first night of their 20th Anniversary Tour last week in Leeds, I had to pick one of theirs. They've covered some unusual songs over the years, and this one was written by Randy Newman for the film The Three Amigos.
https://youtu.be/l1wOQahW-yA
Something New
Ash - Machinery
Again, Ash will be familiar to many of you from their massive 90's hits like Girl From Mars and Shining Light, but they are still going strong and earlier this year they released their 7th studio album, Kablammo!.  This is the third track from it and the best by some distance in my opinion.
https://youtu.be/fbCANGMyBrs
And there you have it.  Many thanks to Mark for sharing his track choices with us (and being such a good sport!) and go and see Dr Hackenbush live if you can.
Remember, if you want to get involved email Adam at Adam.wednesdaynight@hotmail.com and include why you've picked the songs and a bit about yourself so we can feature your story on these very pages.
Listen in to the show next week to find out who will be featured in the vigil and then come and join us for a debrief along with a replay of their tracks.
And finally, as always, don't forget to tune in to http://www.radioscarborough.co.uk/ on a Wednesday night to hear some great music and chat.