From Here is the third single from Stillwave ahead of their soon-to-be-recorded debut album. Recorded at the Mailmen Studios in Utrecht, From Here continues where previous single Tarmac Plains left off: melodic darkness and dark melodies wrapped in distinctive warm vocals that occasionally surprise with their lightness, sometimes shock with operatic force.
Fans of The National should be all over this one.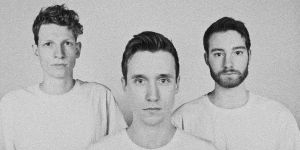 Stillwave are a three-piece (Michaël van Putten, Marcel Jongejan and Adriaan Hogervorst) formed in 2012 in Utrecht, the Netherlands. With attention abroad as well as at home, and having risen to the top of the Dutch Indie chart, they are ones to watch in 2015/6.
From Here was released on June 9th, and is available through Soundcloud, Spotify, iTunes, Deezer and other major online retailers.
Links