On a day when twitter is awash with buzz surrounding a new album from Goldsmiths College's most famous musical alumni, it's appropriate that I find myself listening to a new group, Beach Baby, who first met in the same buildings a couple of decades after Graham met Alex in the first step on the road to Blur.
As important to me twenty years ago as Blur's early releases were, I don't remember getting quite the musical high from There's No Other Way or She's So High that kicked in as Ladybird played through for the first time. There's something delicious in the guitar, handclaps, and soft, accented vocals delivering the vaguely disturbing lyric:
I wanna be your brother
Take a bite of the apple and just spit it out
I wanna be your mother
Raise you up and f*ck you right up
In contrast, the chorus is lyrically simple ("I don't wanna think about it, I don't wanna think about it, I don't wanna live for nothing"); the sounds are a rich ganache of twin male vocal and that guitar tone that inhabits the undefinable space between shoegaze, dream-pop and grunge, intersecting a line from post-punk to new wave on another axis altogether. On its final visit there's a controlled, beautiful aggression. As it drops off into feedback and fade, it leaves a little trail for your mind to follow back to the beginning, for the next listen.
Update, 12th March: A video for Ladybird, directed by Lily Rose Thomas, was released today. You can watch it from the media links section at the end of the page.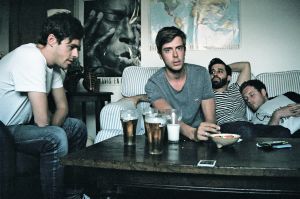 Ladybird is out on March 31st - in the US via B3SCI Records and in the UK via Chess Club Records. Pre-order the single HERE:
Beach Baby are playing their first shows next month and in April, starting with a jaunt over to Paris to support Jungle.
Tour dates
March 29 - Paris, FR - La Cigale*
April 8 - Brighton, UK - The Prince Albert
April 9 - Manchester, UK - The Eagle Inn
April 11 - Cardiff, UK - Dim Swn Festival
April 15 - London, UK - The Courtyard
Links