I've read quite a lot of articles recently as The Bends by Radiohead is 20 years old this year.  It has always been an album that I've loved and it was the one that got me into listening to them as a band in the first place.  I didn't think too much about it (apart from how old it made me feel), but a friend of mine sent me a message this week which said the following:
Just listening to 6 music breakfast show and Sean played The Bends and said it was 20 years old!!!  Made me think of you as it was lovely you who introduced me to Radiohead back in the old days and introduced my 20 year relationship with them.  Thank you!  The mantle has been passed onto my daughter who is probably the same age you were when you lent me that CD!
I thought it was such a lovely thing to hear, but more so I was amazed that I had any musical influence all that time ago!  I would've been around 18 then so still learning what my own taste was, let alone trying to share it with other people.  It clearly worked though so I guess even back then I must have had an inkling as to what was good.  Or else I was just a lot better at forcing someone to listen to something!
Anyway, I decided to use this as an opportunity to revisit The Bends and write about it as a rediscovered album.  A few facts to start with then.  It was released in March 1995 and was Radiohead's second studio album.  It was a shift in sound from their debut Pablo Honey, which was a bit more grunge - I guess due to the time that it came out (1993).  The Bends features more multi-layering and has an overall bigger, experimental feel to it with heavier guitar and sprawling instrumentals.
Five singles were released from the album starting with My Iron Lung as an EP in October 1994 followed by High and Dry as an A Side with Planet Telex as the B side in February 1995.  Fake Plastic Trees followed in May 1995, with the mighty Just appearing in August that year.  Finally Street Spirit (Fade Out) which is also the last track on the album made it as the final single release in January 1996.  This track made it into the charts and became the bands' first top five UK hit.
I can remember when Just was released as it has the most amazing, if not slightly strange video with it.  You know the one.  Where the man is lying on the street and refuses to move or tell people why he's actually lying there.  It brought a lot of conversation with it as people were trying to work out what the man says at the very end of the video as they took the subtitles off and left it to your own interpretation.  This was totally the point and I don't think we're actually meant to know.  Great video though and a brilliant song.
https://youtu.be/-_qMagfZtv8
The album regularly appears in various charts or polls as one of the all-time best albums ever both by critics and listeners and I can see why.  It's an album that you need to repeatedly listen to as I think you gain something each time that you may have missed previously.  I remember reading some comments earlier this year where you were asked to name your favourite song from the album as part of a poll.  I struggled with this and actually commented that I don't think there is a bad track on this album at all.  It's very rare that you find an album where every single song is worthy of a listen and you don't skip over any, and with The Bends you listen to it from start to finish.
This album was the one that introduced the band to a lot of people (myself included) as in the era of Britpop it was something completely different to the other music we were hearing at the time.  There was a lot of talk about Thom York's lyrics being a sure sign of his alleged depression which I think was pretty unfounded.  His writing turned from being overtly personal to more social/global with this album and this continues from then on with the themes in their later work.
Their follow up album OK Computer was more successful reaching number one in the UK charts whereas The Bends only made it to number four.  It did however, stay in the charts for an incredible 203 weeks while OK Computer managed just 100.  When I talk to people about the band most people rate OK Computer as their favourite album, possibly because of the direction they took with it or maybe because the themes they explored with it, I'm not sure.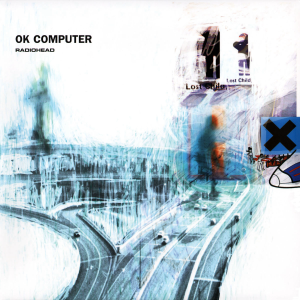 For me, The Bends is an album which sits as one of my all-time favourites and I have many of the tracks on my iPod and in playlists.  It brought the band to my attention and allowed me to experience something new in terms of music, song-writing and meaning.  I have remained a fan of the band, although I don't own their very recent albums I must confess, but I might delve into that at some point in the future.  I was lucky enough to see them live in 1997 (with my friend who sent me the message above and started me writing this piece) and I recall that it was a great gig for many reasons.  The fact that they were supported by Teenage Fanclub was wonderful for me as they are another band I love, but it was a shared experience between friends and something we would not have had if I hadn't waved a CD at her over 20 years ago.  A wonderful memory and all thanks to this fabulous album.
So I guess I should finish by telling you why you should listen to this record then.  Actually, I think the question should probably be why wouldn't you listen to it?